LinkedIn is the world's most popular professional social network, making it a fantastic place to generate high-quality leads for your business. Lead Gen Forms let you collect information from potential customers on LinkedIn itself, rather than requiring users to click on a link to a landing page. But how do you create and use a LinkedIn lead generation form? Find out more below.
What are LinkedIn Lead Gen Forms?
LinkedIn Lead Gen Forms are templates that collect information from users on the platform. You can attach a LinkedIn lead generation form to a single image ad, video ad, carousel image ad, or message ad in a few simple steps. When someone clicks a call-to-action button on one of these ad types, the form auto-fills with that person's contact and profile information and then sends this data to you. It's one of the easiest ways to gather data on the platform.
Say you want to accumulate information from business professionals in a particular niche. You can connect those LinkedIn users with one of your ads and prompt them to send their details. Once you receive and download that data, you can nurture those business professionals as leads. Members submit information within the native LinkedIn platform, so there's no need for them to visit your website.
Why Should I Use LinkedIn Lead Gen Forms? Benefits
There are various benefits of using LinkedIn lead generation forms:
Optimized for mobile
While other platforms let you target potential customers on a desktop computer, LinkedIn Lead Gen Forms are optimized for mobile devices. That means users can send you information on their smartphones and tablets.
Seamless experience
LinkedIn lead generation forms create a seamless experience by keeping members on the LinkedIn website. They don't have to click on a URL to submit information, which makes data sharing more convenient. You can also send a confirmation message to users after submitting their details, which also improves the user experience.
Download lead information
After users submit their details, you can download this data and run it through various marketing tools. That helps you identify high-value leads that match your target audience and make better marketing decisions.
No additional cost
There is no additional cost for LinkedIn Lead Gen Forms. You just pay for the ad type that contains the form, whether that's a conversation ad, message ad, or something else.
How To Use LinkedIn Lead Gen Forms: Step by Step
Follow these steps to incorporate LinkedIn Lead Gen Forms into your marketing campaigns:
Step 1: Access LinkedIn campaign manager account
Start by heading to "Account Assets' in LinkedIn Campaign Manager. Click "Lead Gen Forms" and then "Create Form."
Step 2: Creating your lead gen form offer
Now you can describe the lead generation form offer you are promoting. That's the text that will encourage users to provide their contact details. For example, your offer might be a free software trial, eBook, discount, or other promotion.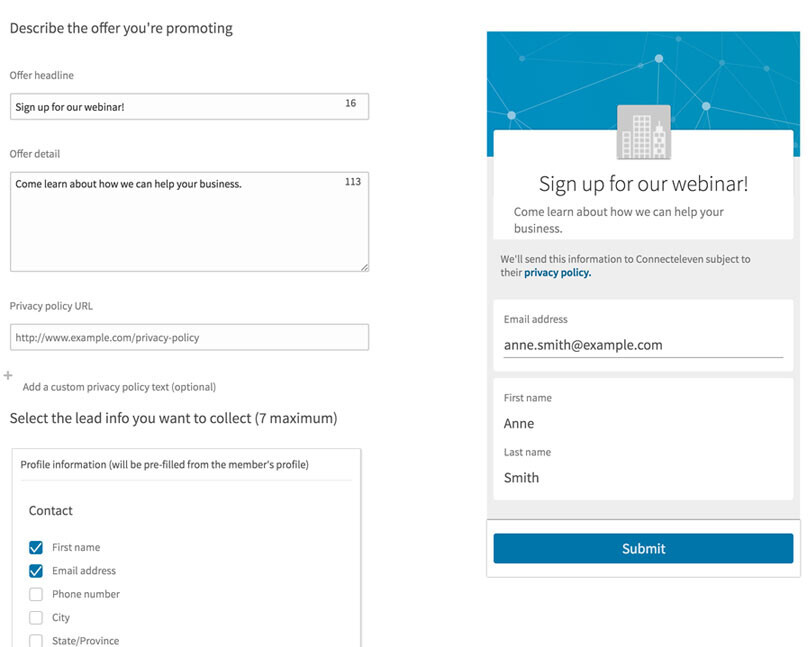 Write a compelling headline in the "Offer headline" section, such as "Sign up for a free trial." Then write a description of your offer in the "Offer detail" section, such as "Try out our software for 30 days with no credit card required."
LinkedIn also gives you the option to add a link to your privacy policy in the "Privacy policy URL" section. That will tell users how you plan to use their data.
You can preview your lead generation form on the right-hand side of your screen as you create it.
Step 3: Add lead gen form information
Under the privacy policy section, you will see a checkbox with different options for collecting information from LinkedIn users. These options include users' first names, email addresses, and phone numbers. You can select up to seven options to include in your lead generation form. Remember, LinkedIn will auto-fill this information for users.
Step 4: Publish lead gen form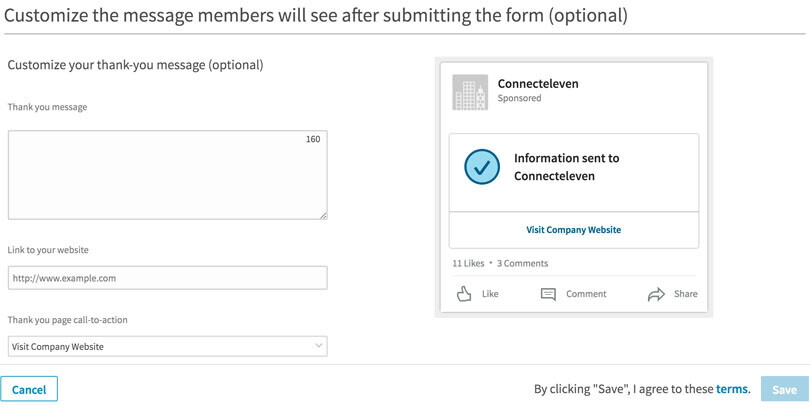 Finally, you can write a confirmation message that thanks users for signing up for your offer. Users will see this message after clicking "Submit" on your lead generation form.
After customizing your confirmation message text, you can also add a link to your website and a call to action to your form.
When you're done, click "Save" to publish your LinkedIn Lead Gen form.
LinkedIn Lead Gen Forms Examples
Here are a few examples of well-executed LinkedIn lead generation form text:
Example 1:
Download Our Free eBook!

Learn seven ways you can grow your business in the next 12 months.
Example 2:
Sign Up for a 30-Day Free Trial

Sample our software for free for a month without paying a single dime!
Example 3:
Get the Latest Marketing Insights Now!

Access our exclusive blog with insider tips, tricks, and more.
LinkedIn Lead Generation Form: Final Word
You can create forms that generate leads for your business directly on LinkedIn. Users can automatically submit their details without leaving the platform, providing you with the data you need for your next marketing campaign. Follow the steps above to create a LinkedIn lead generation form of your own.
Want to revolutionize your marketing? Symphonic can help. Start by requesting an SEO audit for your business.